In 2023, the series of VIMF will be held throughout the 2 regions of Southern and North of Vietnam in Binh Duong and Bac Ninh with the participation of domestic and international enterprises with the largest scale ever now on.
VIMF 2023 is an international industrial exhibition in the form of a roadmap held in the Industrial Complex and we connect supplies of machinery, parts, equipment, technology and process solutions necessary for the automobile, electronics, machinery, textile, footwear, and high-tech industries to related manufacturers.
We cordially would like to invite your company to participate in Vietnam Industrial & Manufacturing Fair 2023 (VIMF) in conjunction with Vietnam Industrial Automation Fiesta ( VIAF) under 2 versions called Southern Chapter and Northern Chapter as detail as below:
VIMF Southern Chapter
VIMF thern Chapter
Date
June 21-23, 2023
Nov 08-10, 2023
Venue
World Trade Center Binh Duong New City (WTC)
Binh Duong | Viet Nam
Kinh Bac Cultural Center

Bac Ninh | Viet Nam

Projected For

Exhibition:

350 exhibiting companies

15.000 trade & professional visitors

300 exhibiting companies

12.000 trade & professional visitors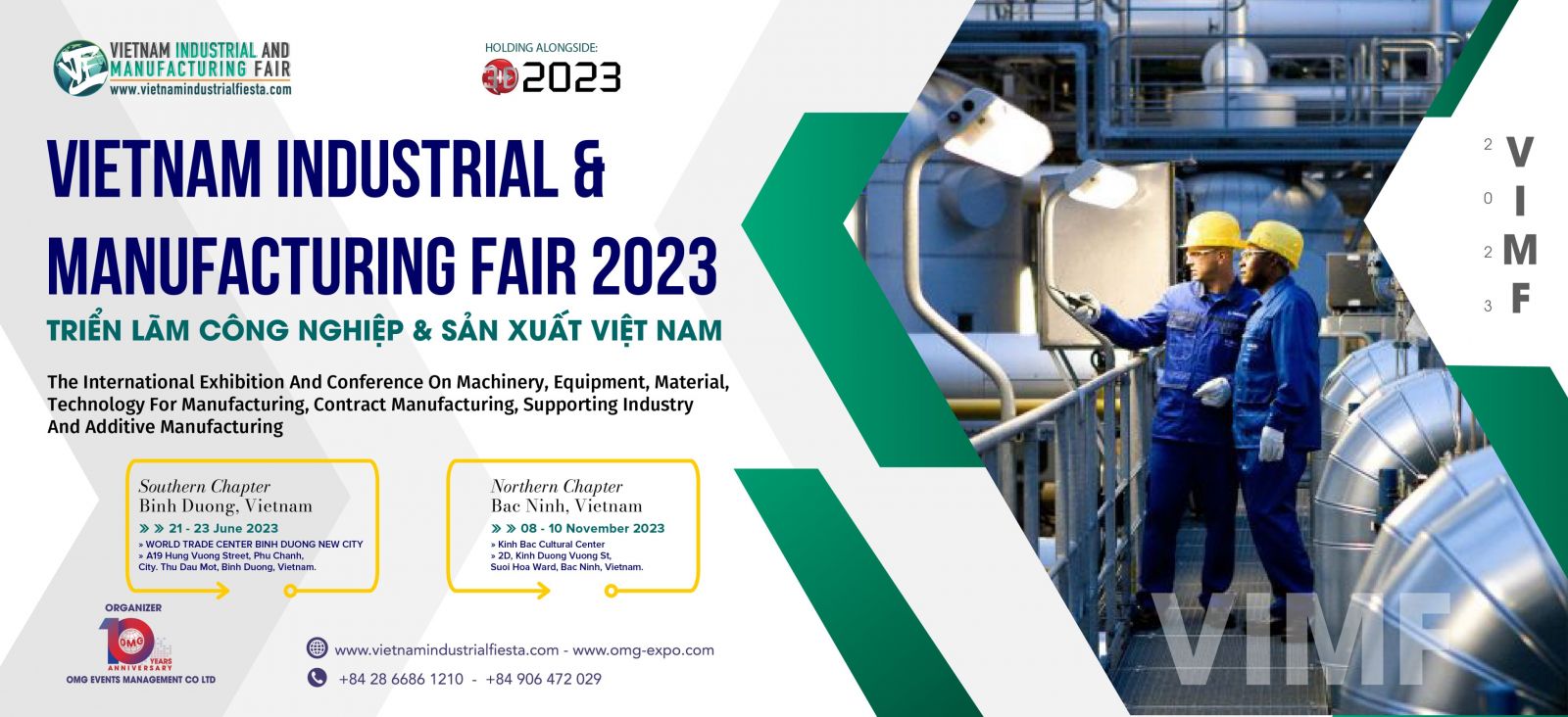 With the Covid-19 pandemic occurring for about 2 years recently in Vietnam and around the world, enterpries have been facing many difficulties in developing and expanding markets. Understanding the obstacles that businesses are facing, OMG has planned to organize a series of VIMF exhibitions at key national cities in Vietnam with strong manufacturing industries, aims to help international & local manufacturers and suppliers to launch new products, meet targeted buyers, appoint agents and distributors, generate new business delegates & visitors, govt. authorities, industrial associations, international trade consulates, etc. and establish business networks
With 13 successful editions to date after many years of organizatio in major cities and provinces, VIMF has been built and become a prestigious brand with quality exhibitions, effective connection, ideal destinations and received high appreciation from customers, business communities across Asia.
VIMF will be staging the specialized high profile event on technologies, equipment, machines & tools, systems, industry materials and engineering services, for manufacturing, metalworking and subcontracting industries. The showcase of VIMF related fields:
Industrial Machineries, Equipment and Materials
Automotive Manufacturing and Contract Manufacturing
Cutting-Off, Press and Welding
Molding Making and Die Casting
Tool and Tooling Systems
Machine Tool and Metal Working
Metal and Sheet Metalworking
HVAC, Compressed Air and Vacuum
Rubber and Plastic Manufacturing
Products for the Supporting Industries
VIMF 2022 will bring you practical insights into the latest strategies, tools, trends in machine tools and metalworking, metrology and measuring tools, 3D print for additive manufacturing, sheet metalworking, software for manufacturing, tools and tooling systems, contract manufacturing, welding and coatings to achieve and maximize productivity and operational efficiency in manufacturing, metalworking and subcontracting industries.
Through expert led presentation and displays, we welcome leading industrial companies from around the world and all over Vietnam to exhibits and update technologies to the growing manufacturing, metalworking and subcontracting industries
Holding alongside with the high profile of these industries in the area, Industrial Automation, Robotics Automation, Logistics Automation, Material Handling, Pumps and Valves, Process and Packaging, Analytical and Laboratory, Test and Measurement, are brought in together to the exhibition to service the manufacturing industries.
EXHIBITOR PROFILE
• Accessories, Parts & Components

• Air Power & Accessories

• Asset Management System

• Chemicals

• Cleaning Devices & Clean Air Systems

• Cutting Tools & Tooling Systems

• Die Casting Machines

• Factory Automation

• Fasteners Hardware, Tools

• Fluid Power & Systems

• Forming & Finishing Machines

• Instrumentation & Process Control

• Inventory Control/Logistics Systems

• Laser Cutting & Laser Systems

• Logistics Automation

• Machine Makers (Manufacturers)

• Machine Tools

• Material Handling

• Metrology & Systems

• Plastics Molding Machine

• Polishing & Surface Finishing Machines

• Power Transmission Equipment

• Precision Gauges, Indicators

• Pr-processing Machines

• Process Industries

• Software & Design – Manufacturing

• Special Purpose Machines

• System Integrator

• Test & Measurement

• Vision Systems
VISITOR PROFILE
• Agent / Distributor / Trading

• Automation Integrator

• Automotive Assembly/Manufacturing

• Buying / Procurement Services

• Cement

• Chemical

• Consumer Product Manufacturing

• Design & Consultancy Services

• Electrical / Electronics Manufacturing

• Energy, Power & Utilities

• Engineering & Contracting

• Equipment Manufacturing

• Feed mill

• Fertilizer

• Food & Beverage

• IT & Telecommunications

• Machinery Manufacturing

• Material Handling

• Metalworking

• Mining

• Offshore, Boat & Marine

• Oil & Gas / Chemical Processing

• Pharmaceutical & Medical

• Precision Engineering/Supporting Industries

• Research & Development

• Rubber & Plastic Products Manufacturing

• Shipbuilding & Repair

• Steel Mill

• Subcontract Manufacturing

• Tools, Die & Moulds Manufacturing

• Trade Association / Government Agency

• Water Treatment & Sewage
VIMF is on a mission to upgrade various local recipient industries. The intention is to introduce know-how & technologies that lead to efficiency, cost savings and increased productivity. Taking directions
from the industry 4.0 phenomenon we encourage Industrial digitization of the pro-cess/production value chain. In this edition, Special emphasis is given to showcase innovations in: Bolt-on Upgrade modules
Bolt on upgrade modules refers to: A low cost, stage 1 method of digitizing. For example: Utilizing Industrial Internet of things technology; Equipping sensors to existing machines/production systems such that digital information can be collected, compiled and analyzed to monitor & plan meaningful outcomes.