3DF-3D PRINTING FIESTA will create the fairground for the entire 3D printing and Additive Manufacturing industry, our shows will feature industrial Additive Manufacturing machines, desktop 3D printers and things in between. To enhance your business in 3D Print, the exhibition offers you amazing sales opportunities and chance to network, collaborate and become part of the global 3D printing community in Vietnam and the Southeast Asia region, building inter-industry relationships to strengthen your business as it surges forward.
Holding alongside with the high profile of these industries in the area, machine tools and metalworking, metrology and measuring tools, sheet metalworking, software for manufacturing, tools and tooling systems, contract manufacturing, welding and coatings are brought in together to the exhibition to service the manufacturing industries.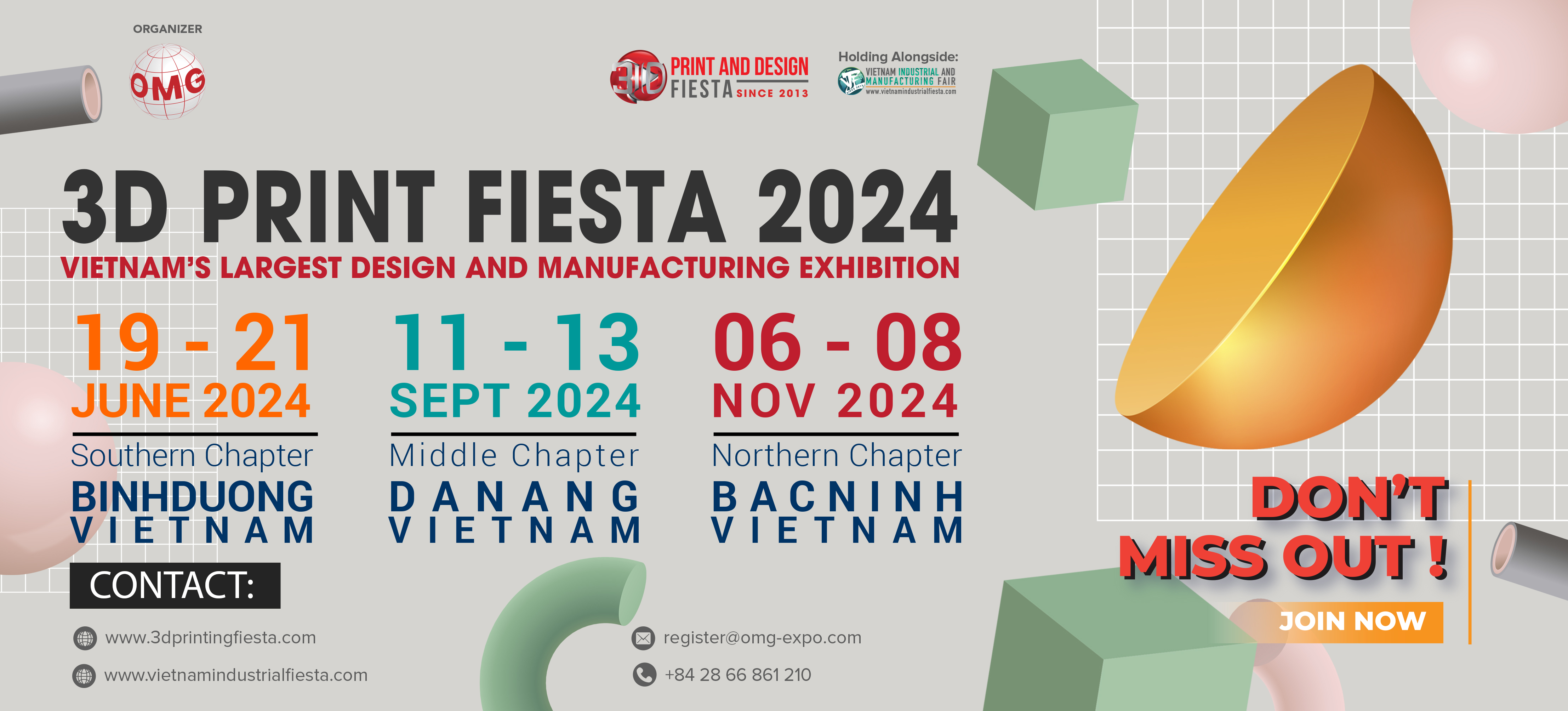 EXHIBITIONS HIGHLIGHTS
The 19th International Industrial Exhibition in Vietnam and Southeast Asia, the 6th annual exhibition taking place in Binh Duong and 5th annual exhibition in Bac Ninh and 2th exhibition in Bac Ninh with more than 500 exhibiting companies from over 15 countries display in 17.000 m2 connecting over 25.000 quality visitors with suppliers, manufacturer, partners in 3 days at the exhibition per each show
The targeting visitors qualifiedly from the Manufacturing, Subcontracting, Engineering Services, End users, Machine Makers, Industry solutions, System Integrators, Industrial Projects and Industrial Equipment Suppliers. Visitors to VIMF are active and open for information, collaboration, and new contacts and and covering the biggest industries in Vietnam
Southern Chapter: Binh Duong, Ho Chi Minh, Dong Nai, Long An, Binh Phuoc, Tay Ninh…
Middle Chapter: Da Nang, Quang Ngai, Quang Tri, Hue,...
Northern Chapter: Bac Ninh, Ha Noi, Bac Giang, Hai Phong, Hung Yen, Hai Duong, Vinh Phuc…
Annual Exhibition in Binh Duong and Bac Ninh. Do not miss out!
HIGHLIGHTED ACTIVITIES AT THE EXHIBITION
CONFERENCE
Topic of conference at 3DF 2024 will talk about:
Connected Manufacturing including IoT, Industry 4.0, Smart Manufacturing, Smart City
Robotics And Vision Systems
3D Design And Print
Discussion on investment policy, trade promotion at the exhibition
INDUSTRIES 4.0 ZONE
I4.0Z is one of the activities at the exhibition to gather enterprises operating in the field of industry 4.0 to attend to display, promote and introduce leading technologies, solutions, technical services applied in the manufacturing to increase labor productivity, save time and operate the factory intelligently and achieve business results.
BUSSINESS MATCHING
Meet and Match Session a customized suite of integrated matching services dedicated to help Exhibitors and Visitors to identify and screen potential customers and business partners in Vietnam. The service draws on the industries with many years of experience matching industrial companies, factory end-users and engineering firms with overseas companies.
INNOVATION ZONE
Innovation Zone aims to support businesses with Automation Guided Vehicle, Automated Equipment, Machines, Robots, Industrial Robotic Arms, Automated Systems have the opportunity to demonstrate Technology in a separate area other than the booth, the designated area. Private design with open space can see the performance space from every angle.
MANUFACTURER PAVILION
Manufacturer Pavilion will include most of big manufacturers in Binh Duong, Da Nang, Bac Ninh and is forming under one buyer area in this exhibition. It will highlight fully demonstrate the most advanced application solutions of industrial technologies and products in the process manufacturing industry and is the only trade and sourcing platform providing solutions for manufacturers and equipment suppliers.
LIVE DEMO
The Live Demo Area will host some of the most forward-thinking equipment and services – all created to enhance the coverage and care delivered within the manufacturing field. With brand new products being launched at this year's event, each visitor to the area will be given a hands on introduction to each product being showcased
With 19 successful editions to date, the series of 3DF 2024 is the ideal platform for international & local manufacturers and suppliers to launch new products, meet targeted buyers, appoint agents and distributors, generate new business delegates & visitors, govt. authorities, industrial associations, international trade consulates, etc and establish business networks in Vietnam market.
VISITORS PROFILE
By Job Function:
Management, • Operation, • Procurement & Purchasing • Production • Engineering & Technical • Quality Control • Research & Development • Service & Maintenance
Who Is the Expo for?
CEO, General Manager, Managing Director, Owner
Managers of Plant, Operations, Logistics, IT, Engineers, Supply Chain, Procurement, Safety, Production, Warehouse, Sustainability, Factory
Major visitors are from design, development, production engineering, purchasing and information system divisions of automotive, heavy industry, electric, machinery and precision equipment manufacturers in the world.
3DF Series is where the creators, the builders, the sellers, and the drivers of manufacturing technology come to connect, be inspired, and find solutions. From around the globe, the industry gathers to discover the latest in innovations and technologies changing our future through advanced and traditional manufacturing, robotics, automation, and digital transformation. Be a part of the change.