SMARTEX VIETNAM 2022 in Binh Duong, the exhibition gathers many domestic and international enterprises with a developed textile, leather and footwear industry, an opportunity to help Vietnamese textile, garment and footwear enterprises innovate machinery and equipment. , accessing advanced technology, especially looking for long-term business partners, creating trade opportunities with countries around the world.
The showcase of SMARTEX VIETNAM 2022 related fields are textile machines, sewing machines, printing machines, raw materials for the textile industry, embroidery equipment, testing and control equipment, chemicals and dyes, raw materials for the textile industry, Printing technology on fabrics, Cotton, shirting, jersey, silk, outerwear, rainwear, eco-friendly, coated fabric, printed fabrics, wool, worsteds, linens, tweed, fancies, flannel, synthetics, technical.
- Washing and bleaching machines
- Chemicals & dyes
- Fabric processing machines & accessories
- Embroidery equipment
- Felt needles
- Testing, measuring and folding machines
- Knitting machine
- Spinning machines & accessories
- Test and control equipment
- Silk-screen printing machinery and equipment
- Textile machinery and accessories
- Accessories and yarn processing machines
- Machinery & accessories
- Clothes folding & cutting machine
- Knife/scissors sharpener
- Textile accessories
- Clothes ironing and steaming equipment
- Sewing machine spare parts for industry & home
- Washing machine & accessories
- Dry cleaning equipment
- Cotton Yarn, Silk, Thread, Fabric
- Footwear Machines And Materials
- Footwear Processing Machine & Materials &
- Dyestuffs, Pigments & Textile Chemicals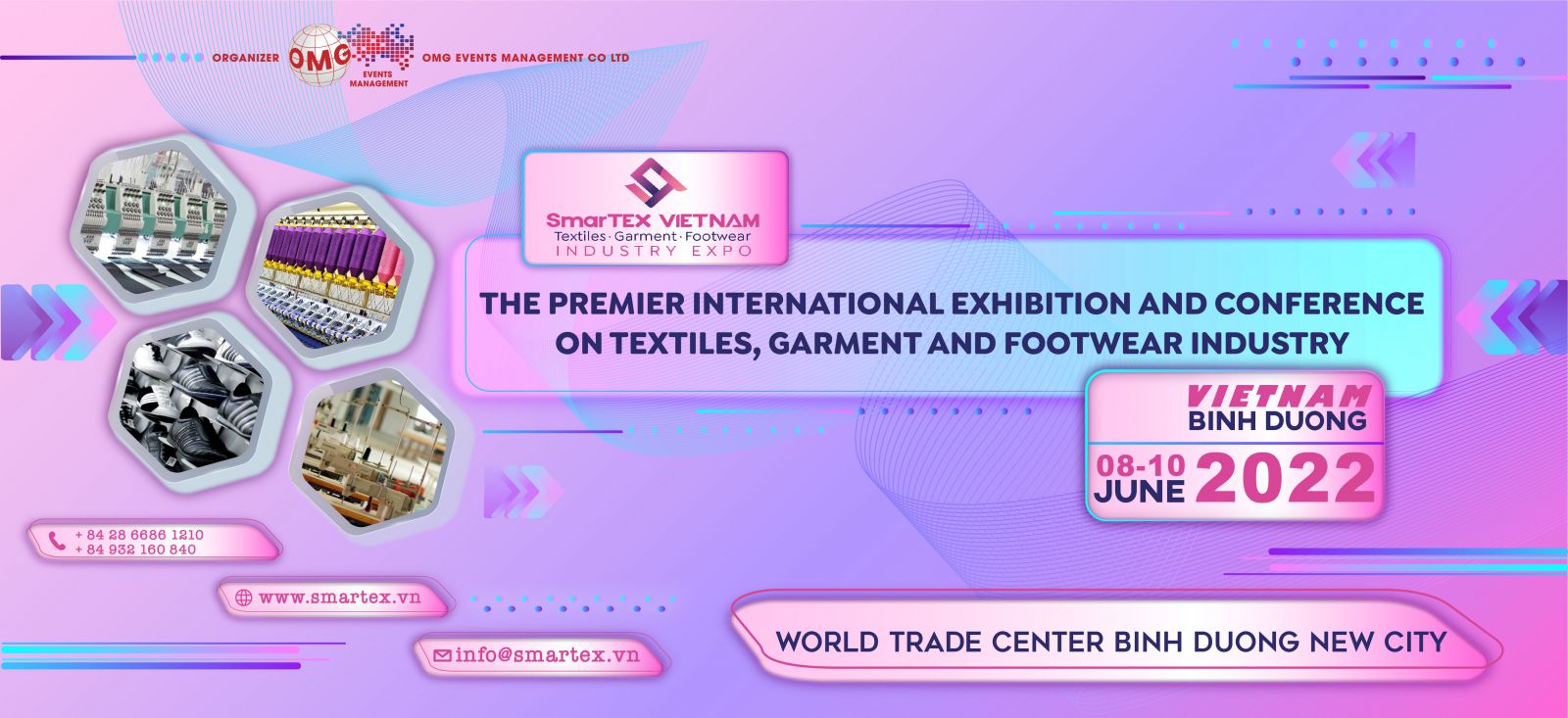 During the exhibition, there were also seminars with the content of trend forecasting, in-depth analysis and analysis as well as the introduction of effective solutions for the textile and footwear industry. The fact that visitors can access inventions, market information and interact with large enterprises from all over the world will contribute to promoting the development of Vietnam's textile and footwear industry.
Vietnam has maintained a long-term cooperative relationship with many countries through the Free Trade Agreement (FTA). Therefore, the series of exhibitions held every year is becoming an ideal destination for investment and production activities in the textile and footwear industries.
SMARTEX VIETNAM 2022 towards the goal of promoting the comprehensive development of Vietnam's textile and footwear industry, introducing technologies, solutions, and development trends in the entire textile and footwear production chain in Viet Nam.
SMARTEX VIETNAM 2022 will be a prestigious destination for the world's leading suppliers to display the most optimal production solutions for the textile and footwear industry in Vietnam. In particular, the business community is given the opportunity to take advantage of the strong industrial development prospects in Southeast Asia and the international professional exhibition platform with solutions to access machinery, equipment, and supply chains. textile and footwear applications.