VMAT – VIETNAM MATERIAL HANDLING FIESTA 2024 is the International Trade Exhibition for Material Handling, Warehousing, Storage & Racking Systems, Transportation, Supply Chain Solution and Logistic Automation
VMAT will be a one-stop-arena of the leading technology and service providers in the materials handling and warehousing logistics manufacturing industry. VMAT will gather organizations with visitors from logistics, warehousing, supply chain, IT & managing systems from a wide variety of industries. As well as cutting-edge product demonstrations on the show ground which will offer visitors practical hands-on solutions to challenges facing end users in the logistics and warehousing industries.
VMAT is the only event of its kind in the Vietnam and is attended by thousands of prospective customers seeking to source new solutions to improve warehousing operations, stay ahead of the latest supply chain trends and grow their professional network.
MATERIAL HANDLING & TRANSPORTATION EQUIPMENT Conveyors / Hoists/ Cranes / Stings / Forklifts / Pallet Trucks/ Carts/ Hand Trucks / Hooks / Dock Equipment / Winches / Drum Handling / Lift Tables / Platforms / TieDowns / WireRopes / Chains / Scales / Counters / Shaves / Pulleys / Blocks / Shims/ Stocks / Trailers Monorails / Special Purpose Vehicles / Cargo / Containers / Trolleys / Gear Boxes / Skids & Skid Boxes
STORAGE EQUIPMENT Storage Racks / Lockers / Safety Storage / Storage / Cabinets / BinBox / Shelving / Wire Partitions / Workbenches / Machine Tables / File / Cabinet / Computer Workstation / Food / Service/ Panel Systems / Bulk Containers / Storage Tanks / Tool Boxes
FOOD PROCESSING & PACKING EQUIPMENT Conveyors / Stretch warps & plastic Packing / Palletize / Encasing Machines / Packing Machines / Box Making Machines / Binding Machines / Packing Material / Labeling Systems / Pallets
WELDING & CUTTING EQUIPMENT Voice Headsets / Light & Computer Aids / Smart Cards / ID Systems / Bar Coding /Optical Character Recognition / Radiofrequency Tags / Magnetic Strep / Machine Vision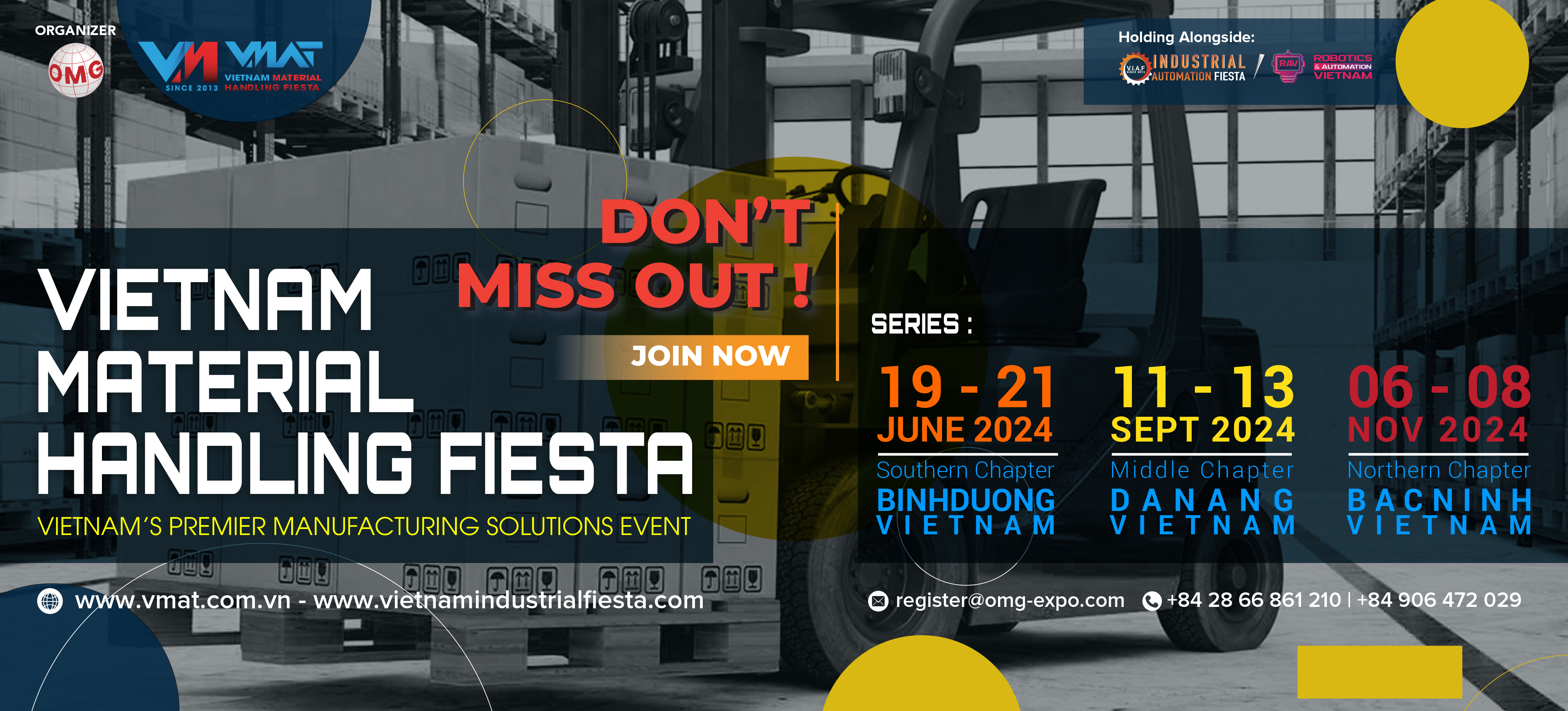 EXHIBITIONS HIGHLIGHTS
The 19th International Industrial Exhibition in Vietnam and Southeast Asia, the 6th annual exhibition taking place in Binh Duong and 5th annual exhibition in Bac Ninh and 2th exhibition in Da Nang with more than 500 exhibiting companies from over 15 countries display in 17.000 m2 connecting over 25.000 quality visitors with suppliers, manufacturer, partners in 3 days at the exhibition per each show
The targeting visitors qualifiedly from the Manufacturing, Subcontracting, Engineering Services, End users, Machine Makers, Industry solutions, System Integrators, Industrial Projects and Industrial Equipment Suppliers. Visitors to VIMF are active and open for information, collaboration, and new contacts and and covering the biggest industries in Vietnam
Southern Chapter: Binh Duong, Ho Chi Minh, Dong Nai, Long An, Binh Phuoc, Tay Ninh…
Middle Chapter: Da Nang, Quang Tri, Quang Ngai, Hue,...
Northern Chapter: Bac Ninh, Ha Noi, Bac Giang, Hai Phong, Hung Yen, Hai Duong, Vinh Phuc…
Annual Exhibition in Binh Duong, Da Nang and Bac Ninh. Do not miss out!
HIGHLIGHTED ACTIVITIES AT THE EXHIBITION
CONFERENCE
Topic of conference at VMAT 2024 will talk about:
Connected Manufacturing including IoT, Industry 4.0, Smart Manufacturing, Smart City
Robotics And Vision Systems
3D Design And Print
Discussion on investment policy, trade promotion at the exhibition
INDUSTRIES 4.0 ZONE
I4.0Z is one of the activities at the exhibition to gather enterprises operating in the field of industry 4.0 to attend to display, promote and introduce leading technologies, solutions, technical services applied in the manufacturing to increase labor productivity, save time and operate the factory intelligently and achieve business results.
BUSSINESS MATCHING
Meet and Match Session a customized suite of integrated matching services dedicated to help Exhibitors and Visitors to identify and screen potential customers and business partners in Vietnam. The service draws on the industries with many years of experience matching industrial companies, factory end-users and engineering firms with overseas companies.
INNOVATION ZONE
Innovation Zone aims to support businesses with Automation Guided Vehicle, Automated Equipment, Machines, Robots, Industrial Robotic Arms, Automated Systems have the opportunity to demonstrate Technology in a separate area other than the booth, the designated area. Private design with open space can see the performance space from every angle.
MANUFACTURER PAVILION
Manufacturer Pavilion will include most of big manufacturers in Binh Duong, Da Nang, Bac Ninh and is forming under one buyer area in this exhibition. It will highlight fully demonstrate the most advanced application solutions of industrial technologies and products in the process manufacturing industry and is the only trade and sourcing platform providing solutions for manufacturers and equipment suppliers.
LIVE DEMO
The Live Demo Area will host some of the most forward-thinking equipment and services – all created to enhance the coverage and care delivered within the manufacturing field. With brand new products being launched at this year's event, each visitor to the area will be given a hands on introduction to each product being showcased
With 19 successful editions to date, the series of VMAT 2024 is the ideal platform for international & local manufacturers and suppliers to launch new products, meet targeted buyers, appoint agents and distributors, generate new business delegates & visitors, govt. authorities, industrial associations, international trade consulates, etc and establish business networks in Vietnam market.
VISITORS PROFILE
By Job Function:
Management, • Operation, • Procurement & Purchasing • Production • Engineering & Technical • Quality Control • Research & Development • Service & Maintenance
Who Is the Expo for?
CEO, General Manager, Managing Director, Owner
Managers of Plant, Operations, Logistics, IT, Engineers, Supply Chain, Procurement, Safety, Production, Warehouse, Sustainability, Factory
Major visitors are from design, development, production engineering, purchasing and information system divisions of automotive, heavy industry, electric, machinery and precision equipment manufacturers in the world.
VMAT Series is where the creators, the builders, the sellers, and the drivers of manufacturing technology come to connect, be inspired, and find solutions. From around the globe, the industry gathers to discover the latest in innovations and technologies changing our future through advanced and traditional manufacturing, robotics, automation, and digital transformation. Be a part of the change