Binh Duong begins to restore production, reopen many activities
Binh Duong implements epidemic prevention and control in the new period in the spirit of being cautious, strict, and sure step by step according to the motto "Wherever it is safe to open the door, when the door is open, it must be safe", All new production, production must be safe". Apply epidemic prevention and control measures at a "higher level", "earlier" and not "slower" when handling situations or easing social distancing appropriately.

Binh Duong workers who have injected the 1st injection after 14 days or 2 full shots will return to work. Illustration
On the evening of October 1, the People's Committee of Binh Duong province issued Official Letter No. 4988/UBND-VX on implementation of control and adjustment of measures to prevent and control the COVID-19 epidemic in the new normal state.
The epidemic prevention strategy of Binh Duong province in the coming time is to continue to encircle and narrow, tightly control the "red zone", expand and protect the "green zone"; control and prevent the source of infection, the new chain of infection to bring Binh Duong back to the "new normal"; strengthen coordination with ministries, central branches and provinces and cities to resume production supply chains and labor supply chains.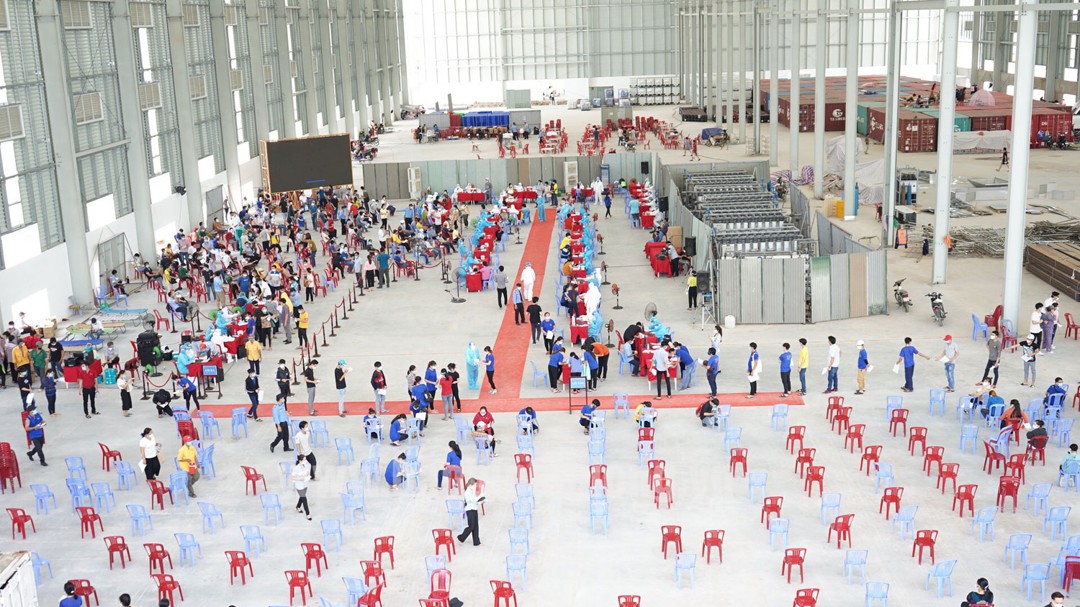 Promoting the "3 green" business model
Specifically, from October 1, people in circulation need to present a "Certificate of eligibility for circulation", which is F0, who have recovered from illness within 180 days from the date of discharge from the hospital and have a certificate of completion of self-monitoring of their health. been healthy for 14 days, since discharge from the hospital or have received 2 injections or received 1 injection at least 14 days.
Employees who meet the circulation conditions under the guidance of the health sector are allowed to circulate to work at production and business establishments, enterprises that are eligible to operate under the "3 green" model (green factory). , green residence, green worker). Businesses must refer to the local government where they reside for certification to serve the circulation.
Particularly for local workers in the city. Thuan An, City. Di An, TX. When Tan Uyen received the first injection after 14 days, she was allowed to work at "green enterprises" in these 3 localities; When fully vaccinated 2 doses of vaccine or F0 cured, they can be circulated to work at "green enterprises" in the remaining 6 localities of the province. Workers in the remaining 6 localities are allowed to work in Ho Chi Minh City. Thuan An, City. Di An, TX. Tan Uyen with the condition that 2 doses of vaccine have been administered or F0 has recovered from the disease.
Manufacturing and trading enterprises and enterprises registering to implement the "3 green" model inside and outside industrial zones and clusters, enterprises must commit to properly, sufficiently and proactively purchase test kits themselves. , self-organizing rapid antigen testing, self-granting test results certificates to serve as a basis for employees to participate in circulation; take full responsibility before law for the test results of each employee in their enterprise; when detecting F0, handle according to the instructions of the health sector; organize testing and screening with frequency and subjects according to the epidemic situation in the province and the guidance of the health sector.
"3-on-the-spot" production enterprises before allowing workers, workers to stop implementing this production plan to return to their places of residence, they must organize a pig screening test under the guidance of the health sector, giving priority to for workers to inject 2 full doses of vaccine back to the factory.
Binh Duong's treatment strategy for COVID-19 patients in the near future is to combine a mobile medical center with a traditional medical center to perform routine medical examination and treatment tasks and support treatment and care. take care of patients with COVID-19 at home; consultation on medical examination and treatment; Vaccination, sample collection.
In industrial zones and clusters, mobile medical centers must be arranged, depending on the number of workers and enterprises to arrange suitable medical stations, at least 1 station is fully equipped in each zone. vehicles, supplies, drugs, especially medical oxygen tanks to promptly give first aid to people with COVID-19.
Continue to promote the effectiveness of the 3-tier treatment model. Improve the treatment capacity of the hospital system, including private hospitals, to proactively respond to evolving epidemic situations; At the same time, study the establishment of "COVID Faculty" at medical facilities that meet the conditions for establishment. Organize effective implementation of F0 treatment at home, especially in hostels.
Returning to the "new normal" from October 1, state agencies, units, political organizations, socio-political organizations, socio-professional organizations, agencies, Central government agencies located in the province are recommended to organize 80-100% of cadres, civil servants, public employees and workers to return to work. Civil servants who have received a full dose of vaccine or have recovered from COVID-19 can go back to work and perform testing every 3 days and ensure measures to prevent and control the COVID-19 epidemic. Agencies and localities, based on the actual situation of epidemic prevention and control, organize the implementation of methods of receiving and returning results directly, online, and via public post.
A number of areas that will be allowed to operate include: Agencies, organizations, offices of foreign business associations with headquarters located in the province; medical examination and treatment establishments, establishments trading in pharmaceuticals, cosmetics, supplies, biological products, public and non-public medical equipment; production, trade, business and service activities may operate when ensuring safety in the prevention and control of the Covid-19 epidemic; activities of religious, belief and worship establishments; resorts, hotels, motels; cultural performances, arts, gymnastics, sports, funerals, weddings.


Ensuring the circulation of goods between regions
The intra-provincial circulation is implemented according to the plan between districts in the "green zone" including: Phu Giao, Dau Tieng, Bau Bang, Bac Tan Uyen, people and means of transport circulate normally, complying with regulations on disease prevention when passing through the COVID-19 disease control points between the two localities. Thu Dau Mot city and Ben Cat town organize inter-ward circulation within each locality.
Particularly, the three "red zone" localities Thuan An City, Di An City and Tan Uyen Town organize traffic in the spirit of "where it is safe, expand traffic there", from within the neighborhood. , to the inter-neighborhood, to the ward, to the inter-ward. Based on the epidemic situation, the Steering Committees for COVID-19 Prevention and Control of these three localities decide on the plan for internal circulation in each locality. Inter-district traffic between localities based on actual epidemic situation and developments in localities; The Provincial Steering Committee for COVID-19 Prevention and Control will give comments before organizing the implementation.
The provincial Department of Transport ensures the smooth circulation of goods between Binh Duong and other provinces and cities, serving the people's life and production, business, import and export activities. Inter-provincial, road and waterway passenger transport activities according to the route in accordance with the plan of the Ministry of Transport and regulations of the Ministry of Health. The inter-provincial circulation of priority subjects performing official duties, workers, experts, people going for medical examination and treatment; organize transportation and pick-up of employees and in urgent cases under the guidance of the Department of Transport.
Transporting goods by motorbike using technology to connect with passengers (shipper) shall comply with the guidance of the Department of Industry and Trade; The operation of goods transporters by motorbikes of enterprises and individual business households shall comply with the guidance of the district-level People's Committees. Strengthen traffic control at gateways bordering provinces and cities, continue to check vehicles and people in traffic with QR codes and identification tools of each industry and field.
Binh Duong province continues to suspend business and service activities such as: bars, spas, massages, beauty services, on-site food services, cinemas, discos, karaoke, video games; street vendors, street tickets.
Source: (Chinhphu.vn)