Da Nang – Vietnam's New Economic Dragon
The central city of Da Nang has been praised as Vietnam's new economic dragon for its steady growth and global integration.
Da Nang has the unique architectural features of the Rong (Dragon) Bridge, which illustrates the legendary creature heading towards the sea, and commenting that it reflects the unstoppable development of the third largest economic hub in the country (after Hanoi and Ho Chi Minh City).

Between 2002 and 2012, Da Nang posted a strong average growth rate of 12.7 percent. The city is the terminal destination of the East-West Economic Corridor (EWEC) which passes through ASEAN nations including Myanmar, Thailand, Laos and Vietnam.
The development of Da Nang is based on the expansion of industrialisation and exploration of its tourism potential.
Scores of economic zones have been set up in the outskirts, while luxurious hotels line the white sand beaches along the blue sea.
Last year, the city welcomed over 2,659,000 tourists, including 603,000 foreigners.
The port of Da Nang is also playing a major role in the area's development. Over the past five years, the cargo flow has increased by 10 percent a year.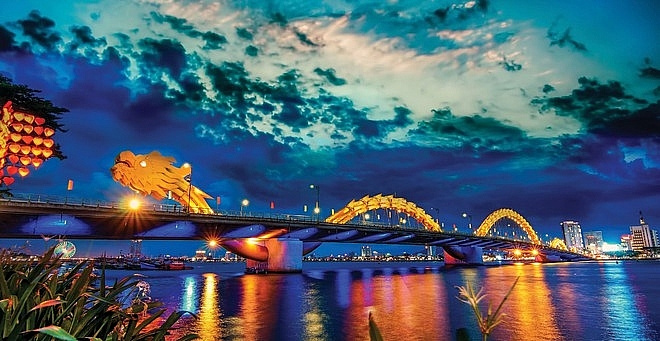 French investor Christian Leroux, whose Dacotex Group in Da Nang's Hoa Khanh industrial zone now employs as many as 2,500 Vietnamese workers, has declared that he would invest in the city again without any hesitation. from vietnamplus